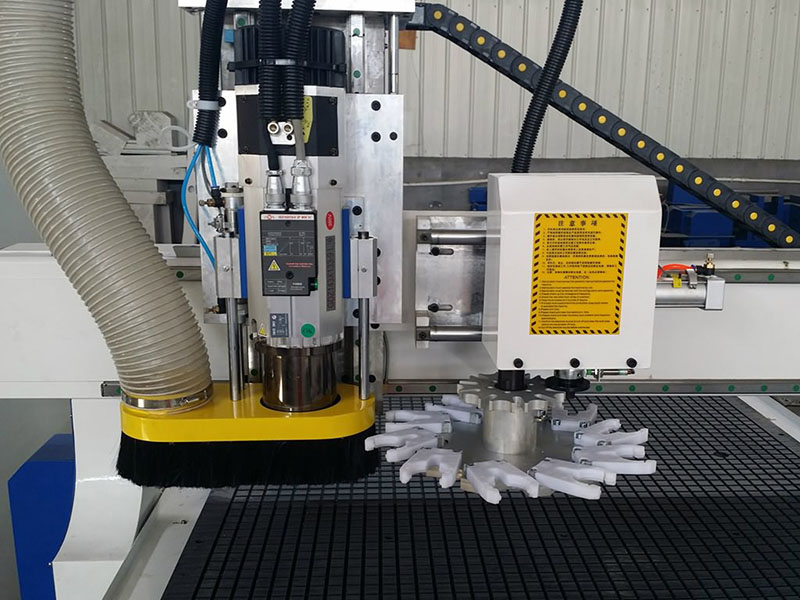 Compared with primary CNC routers, CNC machining centers have advantages in the processing speed, accuracy, power, hardware and software aspects.
Performance & Features of CNC Machining Centers
1. After the bed body steel structure wall tube welding, by vibration aging treatment, durable, is not easy to deformation.
2. The Z axis adopts German ball screw, Taiwan high-precision 30 square rail, precision is more durable. X axis and y axis adopt rack driving, speed faster, better efficiency, cost savings.
3. Software compatibility is strong, can be compatible with type3 / artcam/castmate/wen tai and other CAD/CAM design software, has the cutting tool compensation, Chinese display, background edit, spindle multipoint orientation, displaying simulation operation and fault display function.
4. Taiwan SYNTEC control system, operating more simple, hat type automatic tool change system, save time.
5. Drive system adopts Japan yaskawa servo motor and drive. The function is all ready, stable performance, high reliability.
6. Italy HSD automatic tool change air cooling spindle, high precision long life. Automatic tool change system operation safety, to save time.
7. Manual injection system, maintenance, maintenance more convenient.
8. Vacuum adsorption suction clips and six partition mesa, machining special-shaped workpiece more at ease, suction, up to 250 cubic meters/hour.
9. Have breakpoint continued carving, breakpoint recovery, processing time prediction.
10. Software pretreatment function can correct the mistakes in the software, and with the software code and various international compatibility, such as MASTERCAM, TYPE3 and ARTCAM. 3d space curve of budget law can guarantee the multi-line evenness, and the curve of speed and accuracy.
Advantages of CNC Machining Centers
1. simple operation mode.
2. have independent suction device.
3. advanced file pre-processing, intelligent correct processing, good compatibility.
4. in terms of control system, carpentry processing center, Taiwan SYNTEC control system has good intelligence processing procedures, very good to prevent collision of the machine, and can better control the processing speed, greatly improve the working efficiency, save the cost.