Overview
S1-III 4x8 CNC router machine is equipped with three spindles, changing different tools by changing the spindles automatically one by one. It is designed to satisfy the demands of the professional cabinet making and furniture building. It has fast gantry movement with servo motors and drivers. It adopts high performance CNC controller with Syntec control system. The whole cabinet CNC machine is welded with thick seamless steel structure, the stability is good, not easy to be deformed. The machine adopts gantry movement, it can process any kinds of materials freely.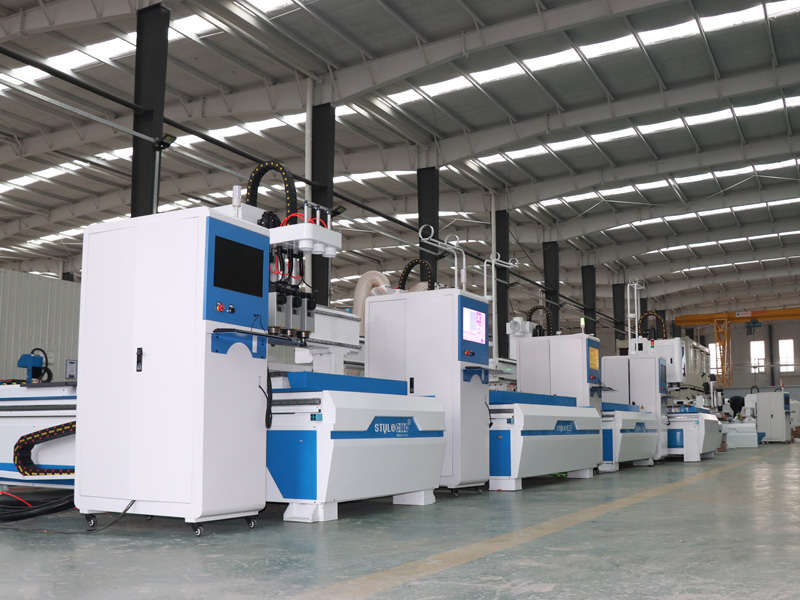 Advantages
1. Why do we design this three spindle CNC router machine? In processing samples working, maybe we need more than 3 different tools to finish different projects. The pneumatic three spindles CNC router machine can shorten the time of tool-changing and tool-setting.
2. Intelligent control Syntec control system or Mach3 with handheld, it can continue to work after break. Accurate control with CNC control system, restoring from power off, resume on break points
3. Economical replacement of ATC, special for furniture factories who have limited budget. Why spend money for a machine with 8 or 10 tools when you normally only use 3 or less per project. The three spindles can auto changing by air cylinders, it is the economic choice for automatic CNC machine.
4. Higher speed than the common 3 heads CNC router kits.
Applications
S1-III 4x8 CNC router table can be used for large area MDF wood board and solid wood boards' plane milling, engraving, hollowing, cutting, 3D relief carving, panel furniture, custom furniture, office furniture, solid wood furniture, wooden cabinet wardrobe, cabinet door, closet door, MDF wood door, craft wooden door, paint free door, TV cabinet, computer table, bedside table, shoe cabinet, bookcase, entrance cabinet, display cabinet, medicine cabinet, wooden speaker, wooden kitchen cabinet, screen, and craft window.
1. Mold Making: wood, gypsum, foams, wax.
2. Furniture Making: wooden doors, cabinets, panel furnitures, office and home furniture, tables, chair, doors and windows.
3. Woodworking: voice box, game cabinets, computer tables, sewing machines table, instruments.
4. Plate Processing: insulation part, plastic chemical components, PCB, inner body of car, bowling tracks, stairs, anti bate board, epoxy resin, ABS, PP, PE and other carbon mixed compounds.
5. Decorations: Wood, acrylic, PVC, MDF, artificial stone, organic glass, plastic, aluminum, copper, brass, and other soft metals.