Disc Automatic Tool Changer CNC Router Features
1. Welded structure by thick profiled steel stabilized under high temperature, ensures minimum distortion, excellent rigidity and powerful strength.
2. Japanese YAKSAWA servo motor makes machine stable running with low noise, high speed and high accuracy.
3. Italy HSD automatic tool changer spindle makes machine with high precision, long service time and stable movement.
4. Configured with disk tool magazine of 16 tools, the machine can change tools speedy and freely.
5. Auto tool sensor enables the machine compensate the tolerance of the tool length.
6. Strong power suction Vacuum pump Yongdun free-oil pump.
7. Imported Taiwan SYNTEC control system, separated keyboard control, color LCD display,can alter the parameters and automatically change the tool.
8. Strong dust collector ensures site cleanliness during the machine operation.
9. Automatic lubricating system, one touch can finish periodic maintenance easily.
Disc Automatic Tool Changer CNC Router Applications
Furniture Making: Wooden doors, cabinets, plate, office and wood furniture, tables, chair, doors and windows.
Woodworking: Voice box, game cabinets, computer tables, sewing machines table,instruments.
Plate Processing: Insulation part, plastic chemical components, PCB, inner body of car, bowling tracks, stairs, anti bate board, epoxy resin, ABS, PP, PE and other carbon mixed compounds.
Decorate Industry: Acrylic, PVC, MDF, artificial stone, organic glass, plastic and soft metals such as copper, aluminum plate engraving and milling process.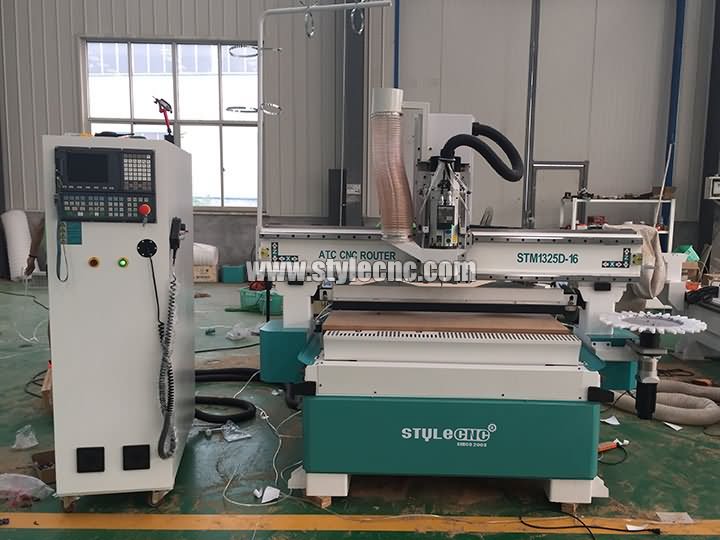 Our STM1325D disc tool changer CNC router has 8 tools, 10 tools, 12 tools, 16 tools, and 20 tools disc tool magazine for your choice, it is based on customer's working requirements.