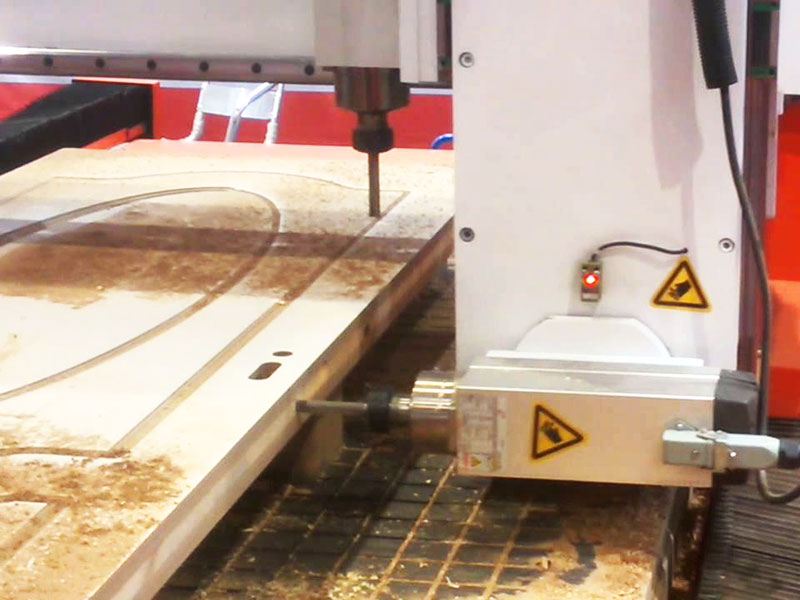 1. Pay attention to the function of the wood door CNC router. Wood door cnc router motor has large and small power, is only suitable for some carving machine with small power double color plate, building model, small signs, three-dimensional crafts materials processing. This process has been popular for some time, but due to the too small power engraving greatly affect the its scope of application. The other is a high power, cnc router, carving machine which divided into two categories: one is the engraving machine for large format, format is generally in more than one meter, but this kind of wood door cnc router precision is generally poor. The other is the area of moderate cnc router, wood door cnc router this is generally used in fine processing and organic plate production.
2. To understand the performance and function of engraving motor. Wood door cnc router engraving head motor is also critical, because motor generally do not belong to the scope of warranty, and the motor is long time of continuous work, so if the motor is not good will influence of wood door cnc router.
3. In addition, the speed of the engraving head motor can be adjusted range. General speed adjustable range is a few thousand to thirty thousand revolutions per minute. If the speed is adjustable or adjustable speed range is smaller. Then it shows that the application of the wood door cnc router has been greatly restricted. Because the carving of different materials must be used with different engraving head speed.
4. Technology for manufacturing wood door cnc router body. Large power cnc router requires the main body must be precise and stable, so long-term high power engraving should be used to ensure the accuracy and stability of the casting process.
5. Controller is generally divided into two categories. A type of controller is only to do the drive, and all its operations by the computer to complete, in the wood door cnc router when the computer is in a state of waiting, unable to make the layout work. Another controller using single chip microcomputer control, the controller is actually a computer, so as long as wood cnc router to start working immediately, the computer can other typesetting work, especially a long time sculpture, especially obvious advantages.
6. Screw and guide rail is also an important part of the wood door cnc router. Good screw and guide rail are the guarantee of the precision and performance of the cnc router.
If your budget is limited, you can buy the common 1325 wood CNC router, such as:
CNC Router 1325 with 4 axis rotary
Features of 1325 wood CNC router:
1. Big steel square tube structure,by seamless welding and hardening treatment, guarantee it to be strong, reliable and durable, with large bearing capacity and long working life.
2. High-Precision Transmission:imported high-precision ball screw and Taiwan Hiwin linear square rails, which move smoothly to ensure the machining precision. Strong and thick belt for mechanical transmission. The rack with 1.25 helical tooth mold guarantees the quick and high precise transmission.
3. High power air-cooling spindle could cooling itself when work with high speed , safeguarding stability for long-time operation.
4. Break-point memory function enables the machine to continue the unfinished work after a work shift or accidents, such as tool breaking.
If your budget is OK, you can buy the CNC woodworking machining center, such as:
3 axis woodworking CNC machining center with ATC system
Features of 3 axis woodworking CNC machining center with ATC system:
1. The whole machine uses high quality seamless welded steel structure, the assembly contact surface is used scraping process, the whole structure high-temperature aging treatment, upright and support plate, using aluminum cast process that ensures the high stability.
2. Driving rail adopts original Taiwan Hiwin 30mm square lead rail.
3. Z axis adopts Taiwan TBI original coarse pitch precise rubbing screw rod, high precision transmission。
4. Wood working cnc machining center adopts Italian high-speed HSD 9kw air-cooled spindle motor, spindle cooling fully guaranteed, can work long time.
5. It use imported Japanese Yaskawa Servo drive system, torque, high precision, fast and stable performance.
6. Use Taiwan Syntec controlling system, good compatibility, compatible with type3/Artcam/Castmate/Artcut/CAD/CAM and other design softwares.It can control the completion of multi-dimensional 3D processing, and can do fast, smooth three-dimensional processing , carving and cutting.
7. wood working cnc machining center table is vacuum adsorption countertops which is an international leader technic, made of high strength rigid plastic, high-absorption edge and strong adsorption of different sizes of materials, density, non-deformation.
8. Auto-oiling lubrication system, easy to operate, greatly improve the life of the various components of the machine.
If your budget is enough, you can buy the Full automatic CNC router - panel furniture production line, such as:
Full automatic CNC router panel furniture production line S6
Features of Full automatic CNC router - Panel furniture production line:
1. Increase 10% material usage
2. Reduce the dependence of the technical workers.
3. Decrease of sorting procedure and sorting error.
4. Save both time and labour for complicated workpiece processing.
5. It can also groove and drill.
6. Improve the product quality and the efficiency.
7. Optimize technology procedure, reduce the production cost.