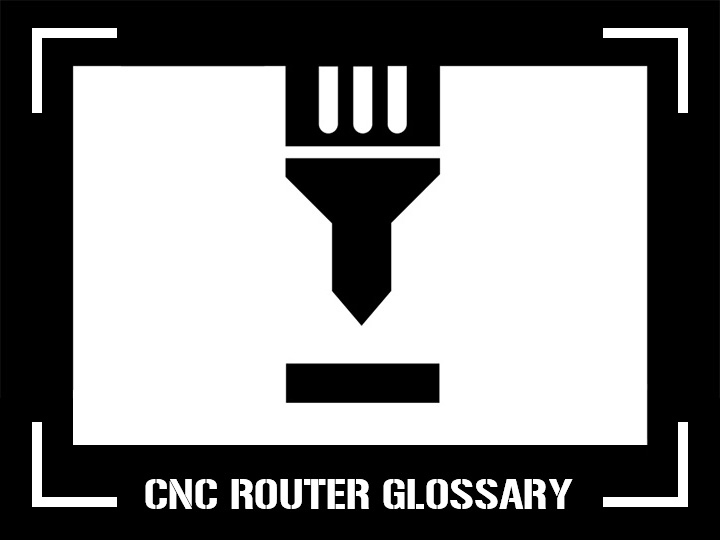 CAD – Computer Aided Design.
CAM – Computer Aided Manufacturing.
CNC – Computer Numerical Control.
Climb Cut – Cutter rotates with direction of feed. Climb cutting prevents tearout, but can lead to chatter marks with a straight-fluted bit; a spiral-fluted bit will reduce chatter.
Conventional Cut – Cutter rotates against direction of feed. Results in minimal chatter but can lead to tearout in certain woods.
Feed Rate – Speed at which the cutting tool moves through the workpiece.
G-Code – A universal numerical control (NC) machine tool language that specifies axis points to which the CNC router machine will move.
Grid – The minimum movement, or feed, of the router head. Head automatically moves to next grid position when button is toggled in continuous or step mode.
Home Position (Machine Zero) – Machine-designated zero point determined by physical limit switches. (It does not identify actual work origin when processing a workpiece.)
LCD – Liquid Crystal Display (used on the controller).
PLT (HPGL) – Standard language for printing vector-based line drawings, supported by CAD files.
Spindle Speed – Rotational speed of cutting tool (RPM).
Step Down – Distance in Z-axis that the cutting tool plunges into the material.
Stepper Motor – A DC motor that moves in discrete steps by receiving signals, or "pulses" in a particular sequence, thus resulting in very precise positioning and speed control.
Step Over – Maximum distance in X or Y axis that cutting tool will engage with uncut material.
Subtractive Method – CNC Router bit removes material to create shapes. (Opposite of additive method.)
Toolpath – User-defined, coded route which the cutter follows to machine the workpiece. A "pocket" toolpath cuts the surface of the workpiece; a "profile" or "contour" toolpath cuts completely through to separate the workpiece shape.
U Disk – External data storage device that is inserted into a USB interface.
Work Origin (Work Zero) – The user-designated zero point for the workpiece, from which the CNC router head will perform all its cutting. X, Y and Z axes are set to zero.