CNC knife cutter is a high-precision CNC cutting machine equipped with varied knife tools and blades. With suitable configuration, CNC knife cutter can meet different functions, such as cutting, drawing, punching, plotting, routing, etc. CNC Knife Cutter can be used for every flexible or soft materials with excellent cutting performance. CNC knife cutter has advantages of high speed, high intelligent, high precise cutting and easy operation, etc. CNC knife cutting machine can connect with other software well with data converting software. CNC knife cutting machine will help industry upgrade from traditional manual sampling to advanced high speed and precision production mode.
At home, out shopping, on vacation, in the streets, in a car or on an airplane – we are constantly surrounded by products likely to have come off a STYLECNC knife cutter. From street signs to storefronts, packaging to spacesuits, hot-air balloons to bullet-proof vests, airplane seats to windshields, STYLECNC knife cutter can process all of the materials involved with the perfect tool for the job – be that cutting, routing, creasing, scoring, or laser machining.
Graphics Industry
Applications: Outdoor advertising, displays, traffic signs, fleet graphics, exhibits, illuminated signage, store décor, decals, floor graphics,etc.
References: 3M, Airbus, Avery Dennison, Christinger, Fair-play, Fastsigns, Graphics Gallery, Imaba, Lufthansa, netService, PlotFactory, Quarmby Colour Studio, Sin Fung Advertisement, Stylographics, Supersine Duramark, Zebra Graphics, etc.
Packaging Industry
Applications: Printed or unprinted packaging, POP/POS displays, foam inserts, cutting dies, etc.
References: Beiersdorf, Chesapeake, Edelmann, Hasbro Toys, Heidelberg, International Paper, Long Chen Paper, Mauro Benedetti, Mondi, Packaging Cooperation of America (PCA), Panther Packaging, Philip Morris, sanovi aventis, SCA,Seda, Smurfit Kappa, STI, TetraPack, Thimm Verpackung, Triwall, etc.
Leather Industry
Applications: Shoes, garments, upholstery, handbags, briefcases, car and airplane seats, etc.
References: Adidas, Akris, Bally, Cavallo, Clarks, Ecco, Gabor, Geox, Gucci, Louis Vuitton, Nike, Prada, Puma, Recaro, Rolf Benz, Samsonite, de Sede, Sergio Rossi, Timberland, etc.
Textile Industry
Applications: Garments, upholstery, airbags, flags, sun shades/umbrellas, car and airplane seats, etc.
References: BMW, Diesel, Ford, Hugo Boss, Interstuhl, Jil Sander, Joop, Levi Strauss, Mercedes, Triumph, Volkswagen, Zodiac, etc.
Composite Industry
Applications: Defense, functional textiles, rotor blades for wind wheels and helicopters, aircraft and automotive parts, etc.
References: 3C-Carbon Composite Company, ACE, Airbus, Audi, Bell Helicopter, BMW, Carbo Tech, DLR, Dyneema, Eurocopter, FACC, Ferrari, McLaren, Pilatus, Red Bull Racing, Scuderia Toro Rosso, SGL Group, ThyssenKrupp, etc.
Techtex Industry
Applications: Truck tarpaulin, carpets, awnings, hot-air balloons, sails, outdoor equipment, inflatable boats, etc.
References: Badertscher, Barrisol, Bieri, Daedler, de Sede, Eschenbach Zeltbau, Estrella Betten, Höcker HTS Structures, interstuhl, Kusch+Co, Quelli In Luce, Ruckstuhl, Sachsen Fahnen, W.Schillig, etc.
Specialty Applications
Applications: Adhesives, gaskets and filter materials, PVB film for auto glass, architectural models, foam, wood veneer, floor coverings, film for solar and photovoltaic systems, aluminium foil, watch faces, etc.
References: ABB, Daimler Chrysler, Dell, Ferrari, Herzog & De Meuron, LG Electronics, Pilkington, Porsche, Procter & Gamble, Red Bull F1-Team, Rolex, SaintGobain Sekurit, Samsung Electronics, Swatch, etc.
Let us have a look what is an CNC knife cutter used for?
CNC Knife Cutter for Garment Cutting Project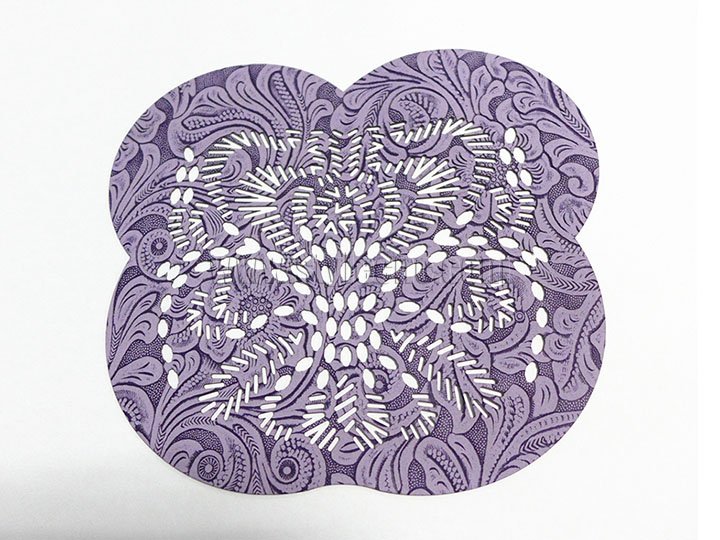 CNC Knife Cutter for PU Cutting Project
CNC Knife Cutter for Genuine Leather Cutting Project
CNC Knife Cutter for Corrugated Lamp Cover Cutting Project
CNC Knife Cutter for Paper Furniture Cutting Project
CNC Knife Cutter for Cat Scratch Plate Cutting Project
CNC Knife Cutter for Color Cardboard Box Cutting Project
CNC Knife Cutter for V Groove on Corrugated Paper Project
CNC Knife Cutter for Corrugated Table and Chair Cutting Project
CNC Knife Cutter for Car Seat Cover Cutting Project
CNC Knife Cutter for Coil Car Mat Cutting Project
CNC Knife Cutter for Cardboard Retail Store Display Fixtures and Racks Cutting Project
CNC Knife Cutter for Cotton Insulation Cutting Project
CNC Knife Cutter for PVC Soft Glass Cutting Project