Milling cutters are also known as milling bits, milling tools, there are different types of milling cutters. Some cutters can be used for numerous operations, others can be used for only one procedure. Some cutters have helical teeth, others have straight teeth. Some cutters have mounting holes, others have mounting shanks. The CNC milling machine operator need to decide which cutter to make use of. To make this choice, you have to know with numerous kinds of cutters and their usages.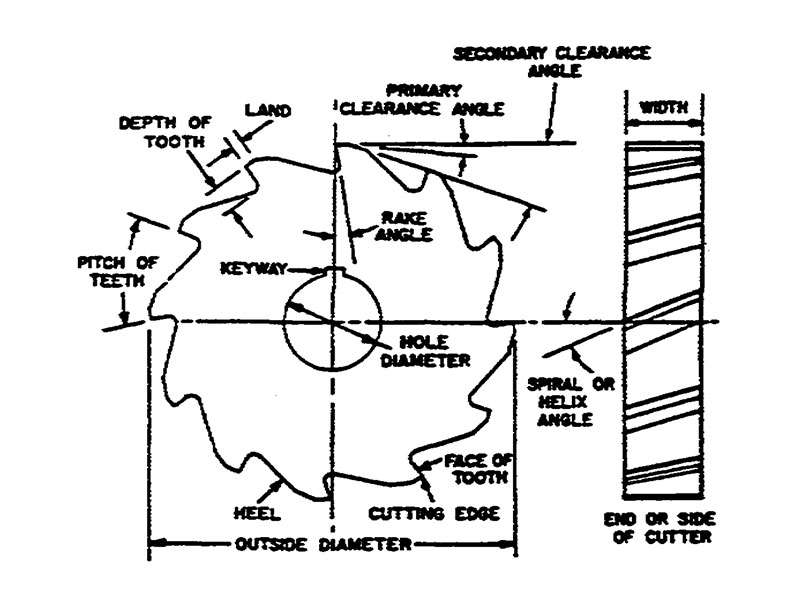 11 Types of CNC Milling Cutter
1. Plain Milling Cutters.
2. Metal Slitting Saw Milling Cutters.
3. Side Milling Cutters.
4. End Milling Cutters.
5. Face Milling Cutters.
6. T-Slot Milling Cutters.
7. Woodruff Keyslot Milling Cutters.
8. Angle Milling Cutters.
9. Concave and Convex Milling Cutters.
10. Corner-rounding Milling Cutters.
11. Gear Hob (Formed-Tooth Milling Cutters).
8 Steps to Choose CNC Milling Cutters.
The following factors should be considered in the choice of milling tools:
1. Type of Machine To Be Used.
High-speed steel, stellite, and cemented carbide cutters have the distinct advantage of being capable of rapid production when used on a machine that can reach the proper speed.
2. Hardness of The Material To Be Cut.
The harder the material, the greater will be the heat that is generated during the cutting process. Cutters should be selected for their heat-resisting properties.
3. Class of Work Being Done.
Some operations can be accomplished with more than one type of cutter, such as in milling the square end on a shaft or reamer shank. In this case, one or two side milling bits or an end milling cutter may be used. However, for the majority of operations, cutters are specially designed and named for the operation they are to perform.
4. Method of Folding The Workpiece.
For example, 45° angular cuts may either be made with a 45° single-angle milling tool while the workpiece is held in a swiveled vise, or with an end milling cutter while the workpiece is set at the required angle in a universal vise.
5. Number of Pieces To Be Cut.
For example, when milling stock to length, the choice of using a pair of side milling cutters to straddle the workpiece, a single-side milling tool, or an end milling cutter will depend upon the number of pieces to be cut.
6. Amount of Material To Be Removed.
A course-toothed milling cutter should be used for roughing cuts, whereas a finer toothed milling cutter may be used for light cuts and finishing operations.
7. Size of The Milling Cutter.
In selecting a milling tool for a particular job, it should be remembered that a small diameter cutter will pass over a surface in a shorter time than a large diameter cutter fed at the same speed.
8. Rigidity and Size of The Workpiece.
The milling tool used should be small enough in diameter so that the pressure of the cut will not cause the workpiece to be sprung or displaced while being milled.
8 Tips to Maintain CNC Milling Cutters.
The life of a CNC milling cutter can be greatly prolonged by intelligent use and proper storage. General rules for the care and maintenance of milling tools are given below:
1. New cutters received from stock are usually wrapped in oilpaper which should not be removed until the cutter is to be used.
2. Care should be taken to prevent the putter from striking the hard jaws of the vise, chuck, clamping bolts, or nuts.
3. Whenever practicable, the proper cutting oil should be used on the cutter and the workpiece during the operation, since lubrication helps prevent overheating and consequent cutter wear.
4. Cutters should be placed in drawers or bins in such a manner that their cutting edges will not strike each other. Small cutters that have a hole in the center should be hung on hooks or pegs, large cutters should be set on end. Tapered and straight shank cutters may be placed in separate drawers, bins, or racks provided with suitable sized holes to receive the shanks.
5. Cutters should be kept sharp, because dull cutters require more power to drive them and this power, being transformed into heat, softens the cutting edges. Dull cutters should be marked as such and set aside for grinding.
6. A milling cutter should be thoroughly cleaned and lightly coated with oil before storing.
7. A cutter should never be operated backward because, due to the clearance angle, the cutter will rub, producing a great deal of frictional heat. Operating the cutter backward may result in cutter breakage.
8. Care should be taken to operate the machine at the proper speed for the cutter that is being used; excessive speed will cause the cutter to wear rapidly from overheating.
Conclusion
Milling bits play an important role in performing milling machine operations. Knowing which cutter to select and use for a specific operation, will at times, determine the overall quality of the final product. The knowledge gained in this task on milling bits will assist you in determining the type of cutter(s) to employ for a specific operation, to include the nomenclature, selection, use and care of milling bits when tasked to perform milling machine operations.