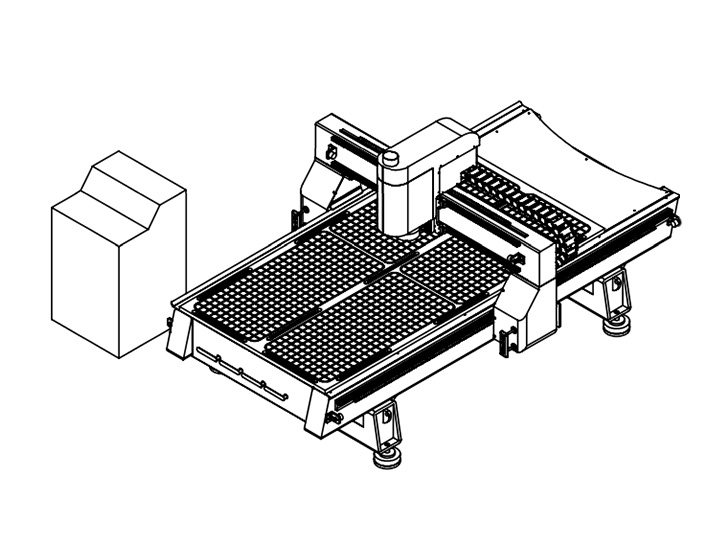 As the standard machine tool of modern woodworking, CNC router is one of the essential woodworking tools.
In addition to basic functions such as cutting, punching, and carving, the CNC wood router machine is favored by woodworking practitioners because of its simple operation, powerful practical functions, and strong usability.
Along with the process of industrialization in the world, traditional carpentry has evolved from relying on simple axes, chisels, saws and planers to relying on CNC power tools. Mechanization has not only greatly improved the production and processing efficiency of woodworking practitioners, but also improved product quality, and is more satisfying. It will meet the quality requirements of end customers.
The following aspects are the key points for a high quality wood CNC machine:
Stable
The main factor affecting the strength is the power of the spindle motor. Generally, it is perfect if the power is above 3KW, and the CNC tool can be clamped to 12.7mm.
Component configuration also affects the strength of the machine tool.
Speed
Considering the life of the machine, it is necessary to pay attention to the processing efficiency. Faster is possible while striving for cut quality.
Accuracy
Both milling and cutting have to work for a long time to achieve a good position with straight lines and smooth.
Ability
Vacuum Table: Ordinary CNC routers need to use fixtures to fix the plate, which will inevitably cause the plate to not be fully utilized, or the use of the operation is troublesome. The STYLECNC vacuum adsorption table divides the plate working area into six pieces, which can process plates of different sizes.
Dust Cleaning: Considering the impact of flying wood chips on the environment during woodworking, it is necessary to add a dust collector to solve the problem.
Energy Loss: The energy loss of the spindle motor is the largest. Traditional machines need to manually control the spindle motor. Forgetting to turn off the spindle after engraving will inevitably lead to energy waste and potential safety hazards. The CNC woodworking machine stops working after the main shaft of the machine stops rotating automatically.
Offline Machining: Considering the surrounding environment and convenience, a brand-new intelligent control system is adopted, which can be used off-line without being completely separated from the computer, with simple operation and strong compatibility.