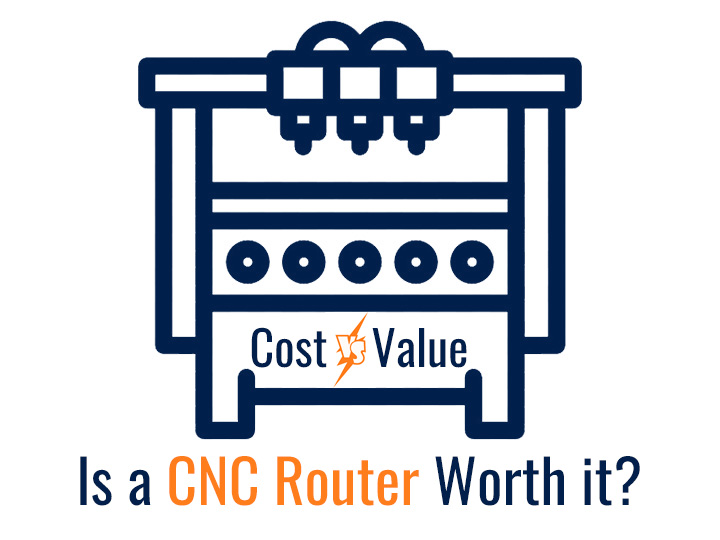 Is it worth buying a CNC router to make money? You should first understand its value apart from the cost. How does it create value? How much value can it create? All depends on what are you going to use it for. If you are a hobbyist, you can use it to DIY personalized crafts, and if you are an advertising shop owner, you can use it to make signage and decoration for profit. If you are a boss of woodworking manufacturer, you can use it to make cabinet doors, home doors, and office furniture to upgrade your business.
CNC router is a qualitative upgrade on the basis of traditional manual cutting. It features with high speed, high efficiency, high precision and high quality. In addition, it can be used for mass production in industrial manufacturing.
What is a CNC Router?
CNC router is an automatic machine tool that uses CAM software to model and convert graphics and files designed in CAD software into tool paths, and works with G-code commands to drive the router bits fixed on the spindle to cut the parts to finish the CNC machining plan. CNC router kits are composed of bed frame, CNC software, CNC controller, gantry, spindles, motor driver, ball screw, power supply, guide rail, T-slot or vacuum table, limit switch, rack & pinion, vacuum pump, and more parts & accessories.
How Does a CNC Router Machine Work?
A CNC router machine needs at least three axes of X, Y, Z to work on flat cutting and relief carving. You can add one 4th axis on side or front of of the bed frame for rotary carving. In addition, a real 4-axis CNC machine can work with four axes at the same time for corner patching of 3D designs, and 5-axis CNC machine can work with a spindle that can rotate 360 degrees for 3D milling and 3D modeling.
How Many Types of CNC Router Tables to Make Money?
The most popular industrial CNC router table is 4x8 full sheet for woodworking, while some table sizes can be as large as 5x10 and 6x12. In addition, there are some small CNC tables for hobbyists and small business with 2x2, 2x3, and 4x4.
What are CNC Routers used for?
CNC wood routers are professional in woodworking with wood crafts, cabinet doors, home doors, home decorations, screens, windows, tables, desks, music instruments and office furniture.
Hobby CNC machines are popular in crafts making, sign making, logo making, blister molding, lettering, and advertising decorations with acrylic, MDF, plywood, metal, glass, plastic, and foam.
Stone CNC machines are used for tombstone manufacturing, Buddhas statues & sculptures, balustrades, arts & crafts, custom slabs and counter tops.
Metal CNC machines can mill metal molds such as copper, brass, aluminum, iron, as well as non-metal molds such as artificial marble, sandstone, foam, plastic, and wood.
How Much do Profitable CNC Routers Cost?
A profitable CNC router costs anywhere from $1,000 to $120,000, an entry level type for beginners costs around $1500, while some high-end industrial types for commercial use are as expensive as $96,000.
Should I Buy a New or Used CNC Router to Make Money?
Are you ready to buy an affordable CNC router to support your home use or commercial use? If so, you will choose an used or a brand new CNC router kit to make money. Most of the time, it's hard to decide. Both options have their advantages, but it is best to do a thorough analysis before making a final decision. In general, the used machine is cheap, but its post-processing performance, remaining life and maintenance costs are still uncertain. The new CNC machine is more reliable and more powerful with a longer lifespan, and the price may exceed your limited budget. I've listed some of the key factors to consider when buying a machine. These factors can help you make the most informed decision to get the ideal CNC machine.
Manufacturer
Does the machine manufacturer matter? Of course, the manufacturer stands for the quality of the machine, even a used one. You should ask the seller which company the manufacturer of this machine is. There are many brands in the market. Some machines are made by qualified makers, while others are not. Therefore, you need to check with the manufacturer and make an informed judgment. Only second-hand routers made by qualified manufacturers are worth buying. To see if a maker is trustworthy, you can browse their official website to see if they have the necessary certificates (such as CE, BV, TUV, SGS). In addition, you can google for information on the machine reviews with this supplier.
By purchasing a new machine from a qualified manufacturer, you can communicate directly with salespeople and engineers. You can go to the factory to check the machine performance and the manufacturer's dimensions. In addition, professional sales personnel can help you understand the parameters and functions of the machine when purchasing the machine. In this sense, buying a new machine saves time and effort compared to buying an used machine.
Price
Price is one of the main factors that people should pay attention to when buying a machine. The cost of a second-hand CNC router machine is around $8,00 to $20,000, which is affected by factors such as the original price, configuration, kits, and service time. If you only care about the price of the machine and buy a cheap one, there will be many potential problems sooner or later. A cheap CNC machine that might break down ends up being junk.
New machines are known to cost more than similarly configured used machines. This is because used CNC machine parts and short lifespans lead to depreciation. However, new machines are cheap when it comes to operating and maintenance costs. If you have enough budget and want to profit from your machining business as soon as possible, buying a new Chinese CNC router is a better choice.
Service Life
The useful life of an used CNC machine depends on the date of manufacture, processing time and quality of parts. Although old machines can save you a lot of money, they have a short lifespan and are not worth buying. The machines you really need must have a long lifespan to support your business. Therefore, it is necessary to check the service life of the wood planer. This will help you evaluate the machine more fully.
New CNC router machines will last longer than used machines. New machines are usually custom manufactured according to the user's needs. Parts such as guides, spindles, ball screws are not worn. The new machine has a long service life and good performance.
Things To Consider
In any case, a profitable CNC router can create value in your daily life and work. It can not only help you make money, but also help you grow your skills. It is an indispensable good helper for your business.